Students Day
Celebrating community, literacy, and inspiration
A Festival Tradition
Among the most treasured activities of the Sonoma Valley Author's Festival is Students Day — the Festival's celebration of community, literacy, and inspiration designed specifically for local middle- and high-school students.
Each year, during the school day before Festival events begin on Friday afternoon, more than a dozen authors and thought leaders share their experiences and ideas with 2,700 middle and high school students gathered from across the Sonoma Valley.
The Sonoma Valley Authors Festival thanks the Vadasz Family Foundation, Bank of Marin, Bank of the West, Exchange Bank, and First Republic Bank for supporting Students Day. These donors plus many individual contributors allowed us to provide as many as 5,000 new books each year, written by the presenting authors, for the 2,700 young readers assembled.
Our thanks to all the authors and speakers that addressed the pupils of Sonoma Valley High School, Sonoma Academy, Adele Harrison, Altimira Middle Schools, Archbishop Hanna High School, and Kenwood School to share their stories.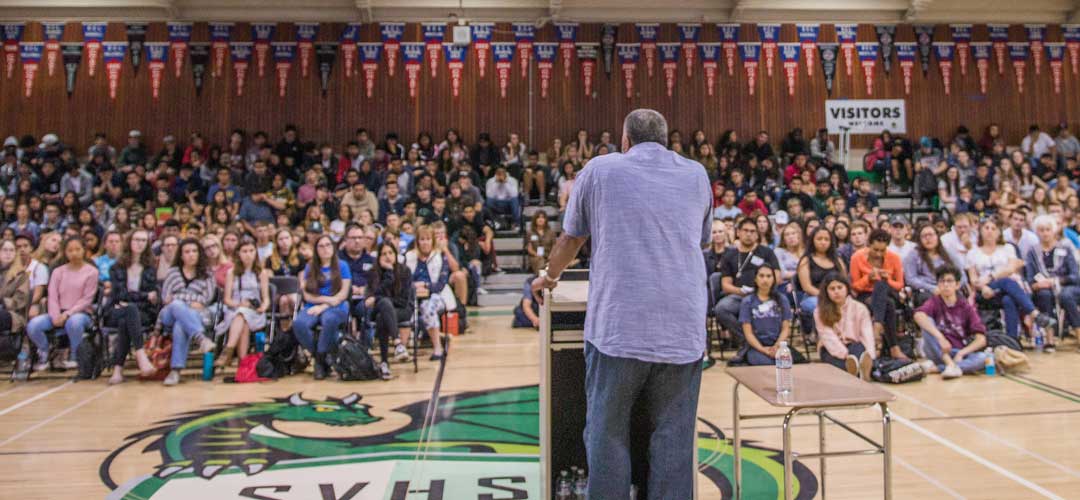 The cost to produce Students Day is substantial — approximately $150,000 each year. But it remains an integral component of the broader Festival, which secures and coordinates the authors for this part of the weekend Festival celebration. Students Day also depends upon the continued the support of the local community. This year, we hope new funding will allow us to serve even more students, including young readers from nearby Santa Rosa schools.
You can support this effort by becoming a Festival Sponsor or Donor today. We also work with many Donor Advised Funds, Family Foundations, and Community Foundations to make Students Day a continuing success.
Past Students Day Speakers 2018 & 2019
We're pleased to have welcomed the following authors and speakers to the Sonoma Valley Authors Festival Students Day:
Akbar Ahmed • Jamie Bernstein • Charina Chou, PhD • Billy Collins • Dartanyon Crockett • Wade Davis • Lukman Faily • Lisa Fenn • Alex Filippenko, PhD • Anthony Ray Hinton • Astronaut Scott Kelly • Pedro Irazoqui, PhD • Alana Nichols • Caitlin O'Connell, PhD • R.J. Palacio • Dr. Ramon Resa • Daniel Rodriguez • Dr. R. Sanders Williams • Claire Spafford • Deepa Thomas • Trudy Trueit • Jose Antonio Vargas • Simon Winchester • Andrew Zaldivar, PhD
---
Students Day Brochures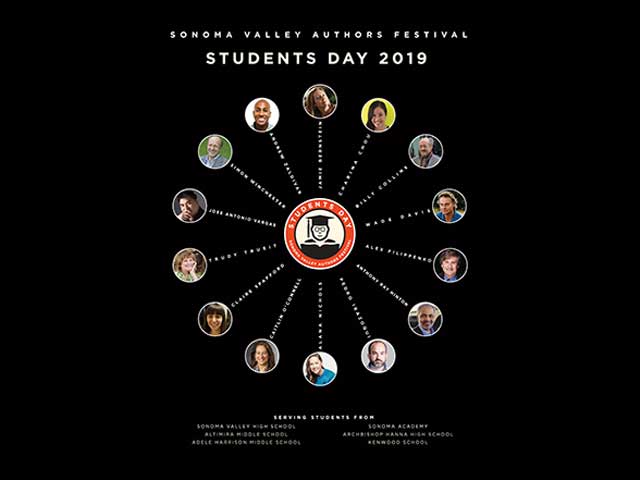 Testimonials
Dear David and Ginny,
Yesterday will remain one of the highlights of the entire 20-year history of Sonoma Academy!
Janet Durgin
Head of School
Sonoma Academy
_____________________________________________
David & Ginny,
You truly did a good deed in bringing the Sonoma Valley Authors Festival to Sonoma Valley High School. I was literally moved to tears to hear the excited comments, to answer this request for one more book, and to see how engaged our students were with the wonderful speakers. I know you will be hearing from the students as well but thank you from the bottom of my heart-school should be like this every day!
Janet Hansen
Librarian & Co-Head of the English Department
Sonoma Valley High School
_______________________________________________
The feedback I have heard since writing that has been even more fantastic. A student (senior) got up at the school board meeting last night and said it was the best day of his educational career. My daughter at Sonoma Academy said the same thing. Bravo! I really hope you have the energy to do it again next year!
Lorna Sheridan (reporter for the Sonoma Index Tribune)
_______________________________________________
David & Ginny,
Anne and I had a wonderful time at the SVAF over the past few days, and we thank you guys for all the hard work in putting this first-time event together. We are glad that you confirmed for next year and we will certainly want to be a part of all that when the time comes.
Your dream has become a reality and we were glad to be a part of the journey, thanks.
Wells Whitney & Anne Halsted
Dreams Come True at Students Day
Joseph Silvi was a sophomore at Sonoma Valley High School studying to become an engineer when he met Pedro Irazoqui, Ph.D who is director of Purdue's Center for Implantable Devices, associate head for research and professor in the Weldon School of Biomedical Engineering, and School of Electrical and Computer Engineering. Dr. Irazoqui spoke at the Inaugural Sonoma Valley Authors Festival in 2018 and at Students Day and met Joseph.
Joseph expressed his desire to become an engineer and Dr. Irazoqui offered Joseph a paid summer internship in 2019. Joseph had turned 16 in the summer of 2019 so he and his father drove to Purdue University in West Lafayette, ID where Joseph went to work for Dr. Irazoqui and his team. The interview with Joseph and Laura Zimmerman, a former television news anchor and reporter in Northern and Central California, discusses this very special internship and the impact it had on Joseph. Dreams do come true!
Partners
10,000 Degrees
10,000 Degrees, a non-profit organization founded nearly 40 years ago, is a recognized leader in the educational equity movement. Under the direction of Kim Mazzuca, President and CEO, they serve high school students in seven Bay Area Counties including Sonoma, Marin, and San Francisco.
Over 20,000 students from low-income households have been able to go to college, stay in college, and graduate from college with the help of 10,000 Degrees. More than $60 million in scholarships has been granted, their graduation rate exceeds 80%, and their community college transfer rate is three times the national average.

The key to the success of the program is a dedicated, full time staff of 40 people and over 300 volunteers offering high-touch, individualized counseling and financial aid advice starting early in high school and following them through college graduation.
As part of their work to create more opportunity, 10,000 Degrees, in partnership with Book Passage, has hosted several author events that bring more books and stories into the lives of students.
Sonoma Valley Education Foundation
Helping Sonoma Valley Students Thrive by Funding Innovative Programs

Led by Angela Ryan, PhD, Executive Director, the Sonoma Valley Education Foundation was founded in 1993 by a group of concerned parents and community leaders. Since that time, it has invested over $15 million dollars in the Sonoma Valley public school programs. Their purpose is to help every student find success and inspiration in school, so they graduate well prepared for both college and a career, by funding excellent programs aimed at raising students' achievement and creating a generation of students who love to learn.
The Foundation plays a simple but important role in the lives of students by funding specific, innovative academic and enrichment programs that help students thrive throughout their school years from Early Childhood Literacy to College & Career Readiness.
The Foundation is the primary fundraising and volunteer resource for programs such as Preschool for All, Summer Literacy Academy, Middle School Writing Centers, Freshman Teams, Engineering, Design & Technology Academy, and the Valley Vibes Orchestra.
The Foundation also supports the Barn Talks, a Sonoma Valley High School alumni speaker series, Youth Engagement Seminars (YES), the iChoose banners seen around Sonoma.