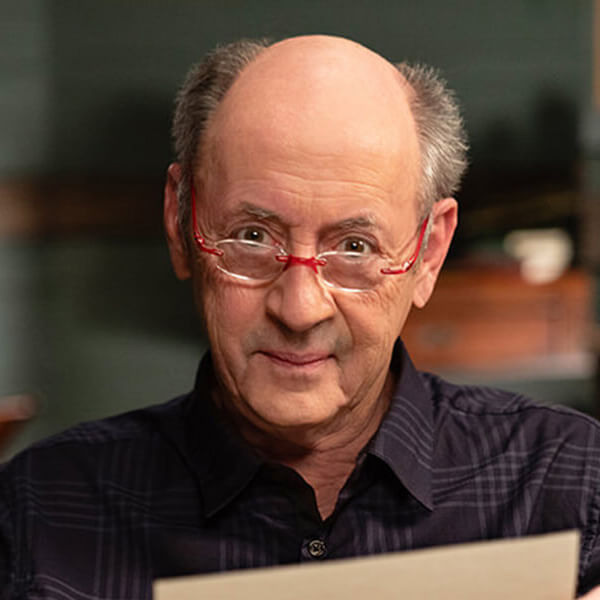 Billy Collins
Billy Collins is an American phenomenon. No poet since Robert Frost has managed to combine high critical acclaim with such broad popular appeal. Dubbed "the most popular poet in America" by Bruce Weber in the New York Times, Billy Collins is famous for conversational, witty poems that welcome readers with humor but often slip into quirky, tender or profound observation on the everyday, reading and writing, and poetry itself.
A new collection from Bill Collins, Whale Day: And Other Poems, brings together more than fifty poems and showcases his deft mixing of the playful and the serious that has made him one of our country's most celebrated and widely read poets. Here are poems that leap with whimsy and imagination, yet stay grounded in the familiar, common things of everyday experience. Collins takes us for a walk with an impossibly ancient dog, discovers the original way to eat a banana, meets an Irish spider, and even invites us to his own funeral. Sensitive to the wonders of being alive as well as the thrill of mortality, Whale Day: And Other Poems builds on and amplifies Collins's reputation as one of America's most interesting and durable poets.
Billy's work has appeared in a variety of periodicals including The New Yorker, The Paris Review, and The American Scholar, he is a Guggenheim fellow and a New York Public Library "Literary Lion." His last three collections of poems have broken sales records for poetry. His readings are usually standing room only, and his audience – enhanced tremendously by his appearances on National Public Radio – includes people of all backgrounds and age groups.
The poems themselves best explain this phenomenon. The typical Collins poem opens on a clear and hospitable note but soon takes an unexpected turn; poems that begin in irony may end in a moment of lyric surprise. No wonder Collins sees his poetry as "a form of travel writing" and considers humor "a door into the serious." It is a door that many thousands of readers have opened with amazement and delight.
Collins's level of fame is almost unprecedented in the world of contemporary poetry: he served two terms as the US Poet Laureate, from 2001-2003, was New York State Poet Laureate from 2004-2006, and is a regular guest on NPR programs.
Born in New York City, Collins has taught at Columbia, Sarah Lawrence, SUNY Stonybrook, and Lehman College/CUNY. We are thrilled to invite Billy Collins back for his third year at the Sonoma Valley Authors Festival, after his insightful and incredibly popular appearances in 2018 and 2019.
Buy Billy Collins's books at Book Passage
---
Other 2021 Authors & Speakers