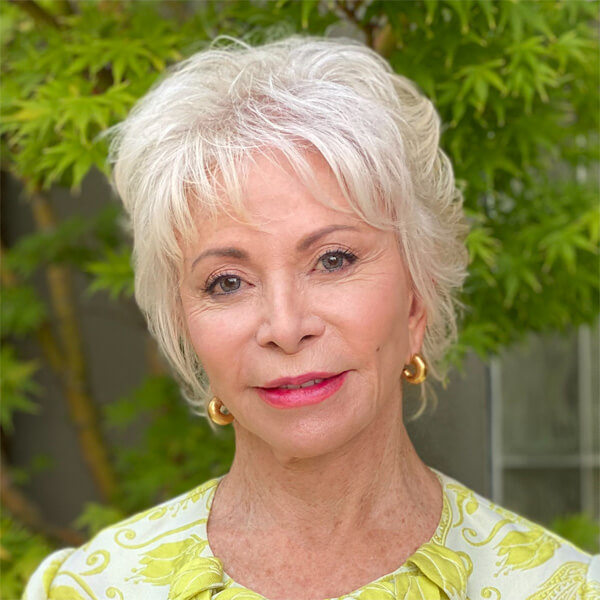 Isabel Allende
Novelist and Philanthropist
Isabel Allende is a Chilean American writer and one the world's most widely read Spanish-language authors. Her novels are often based upon her personal experience and historical events, and pay homage to the lives of women while weaving together elements of myth and realism. Allende has written 25 books, beginning with her well known and beloved debut novel, The House of the Spirits, in 1982. Her books have been translated into 42 languages and sold more than 75 million copies. She is a member of the American Academy of Arts and Letters and has received numerous awards for her work, including Chile's National Literature Prize and a Presidential Medal of Freedom from President Barack Obama in 2014.
Her new book, Violeta, was released in February 2022. In this sweeping novel, Allende tells the epic story of Violeta Del Valle, a woman whose life spans a hundred years and bears witness to the greatest upheavals of the twentieth century. Violeta comes into the world on a stormy day in 1920, and from the start, her life is marked by extraordinary events with the ripples of the Great War still being felt even as the Spanish flu arrives on the shores of her South American homeland. Isabel Allende tells the story through the eyes of a woman whose unforgettable passion, determination and sense of humor will carry her through a lifetime of upheaval, in a book that is both fiercely inspiring and deeply emotional.
Allende's previous book, The Soul of a Woman, explores what feeds the soul of feminists—and all women—today. As a young woman coming of age in the late 1960s, she rode the second wave of feminism. She has seen what the movement has accomplished in the course of her lifetime, and hopes her book will "light the torches of our daughters and granddaughters with mine."
In 1996, she founded The Isabel Allende Foundation, guided by a vision of a world in which women have achieved social and economic justice. The Foundation invests in the power of women and girls to secure reproductive rights, economic independence and freedom from violence. It also supports a small number of organizations worldwide whose exemplary work is aligned with its mission. Created to honor the author's daughter, Paula Frias, who died at age 29, the Foundation has awarded grants to more than 100 nonprofits worldwide delivering life-changing care to hundreds of thousands of women and girls.
When not writing or working with the Foundation, Allende lectures and tours U.S. colleges to teach literature.
Buy Isabel Allende's books at Book Passage
---
Other 2021 Authors & Speakers