Steven Pifer
Steven Pifer's 26-year career with the State Department focused on U.S. relations with the former Soviet Union and Europe, as well as arms control and security issues.  He served as Deputy Assistant Secretary of State with responsibilities for Russia and Ukraine (2001-2004), Ambassador to Ukraine (1998-2000), and Special Assistant to the President and Senior Director for Russia, Ukraine and Eurasia on the National Security Council (1996-1997).  In addition to Ukraine, he served at the U.S. embassies in Warsaw, Moscow and London as well as with the U.S. delegation to the negotiation on intermediate-range nuclear forces in Geneva.
Pifer is a Research Fellow at the Robert Bosch Academy in Berlin, a non-resident Fellow at the Brookings Institute, and a former Foreign Service Officer with the U.S. Department of State.
He is the author of The Eagle and the Trident: U.S.-Ukraine Relations in Turbulent Times (Brookings Institution Press, 2017) and co-author of The Opportunity: Next Steps in Reducing Nuclear Arms (Brookings Institution Press, 2012).
An insider's account of the complex relations between the United States and post-Soviet Ukraine, The Eagle and the Trident provides the first comprehensive account of the development of U.S. diplomatic relations with an independent Ukraine, covering the years 1992 through 2004 following the collapse of the Soviet Union. The United States devoted greater attention to Ukraine than any other post-Soviet state (except Russia) after the breakup of the Soviet Union, as Pifer examines in this definitive narrative of the ups and downs in the relationship between Washington and newly independent Ukraine. Reflecting on what worked and what did not work in the various U.S. approaches toward Ukraine, Pifer offers a practitioner's recommendations for current U.S. policies in the context of ongoing uncertainty about the political stability of Ukraine and Russia's long-term intentions toward its smaller but important neighbor.
In his previous book, The Opportunity: Next Steps in Reducing Nuclear Arms, Pifer and Brookings Senior Fellow colleague, Michael O'Hanlon, make a strong case for further steps in nuclear arms control, explaining in clear and straightforward prose the background to complex arms control issues, and offering practical and realistic proposals for action by the administration in 2013 and beyond.
Steven Pifer is a 1976 graduate of Stanford University with a Bachelor of Arts in Economics.
Buy Steven Pifer's books at Book Passage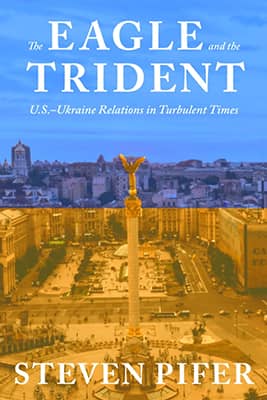 ---
Other 2023 Authors & Speakers