Erich Schwartzel
Erich Schwartzel is an American journalist covering the film industry in the Wall Street Journal's Los Angeles bureau. He has written dozens of front-page stories on life and business in Hollywood, specializing in features where commerce meets culture.
Schwartzel's first book, Red Carpet: Hollywood, China, and the Global Battle for Cultural Supremacy, was published in February 2022 and detailed the growing influence of China on the American entertainment industry. Reporting from across three continents, Schwartzel describes how China's booming box office has given the country unprecedented sway over the American entertainment industry, allowing China's Communist Party to ensure no U.S. movie premiered with themes it deemed politically sensitive, or featured actors whose stances angered Beijing. China's impact on Hollywood and global opinion has continued to grow. From trade to technology to military might, competition between the United States and China dominates the foreign policy landscape. This battle for global influence also plays out in a strange and unexpected arena: the movies.
"Red Carpet" was a New York Times Editors' Choice and named one of the best books ever written about Hollywood by Esquire. It has been featured on NPR's Fresh Air, CNN's "The Lead with Jake Tapper," and excerpted in the Atlantic and the Washington Post. The New York Times book review has said: "The two stories, the humbling of Hollywood and the swelling of Chinese soft power, twist and combine across Schwartzel's masterfully organized book. . . This is a fascinating book."
Before joining the Wall Street Journal in 2013, Schwartzel covered energy and the environment for the Pittsburgh Post-Gazette, where his work won the Scripps Howard Award for Environmental Reporting. He got his start in journalism writing a police blotter for the local paper.
Buy Erich Schwartzel's books at Book Passage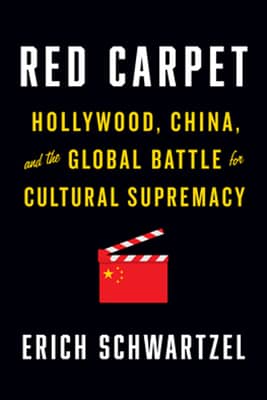 ---
Other 2023 Authors & Speakers