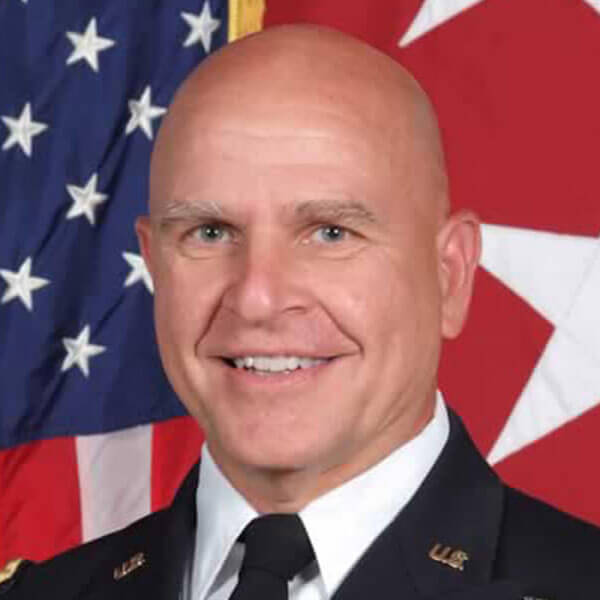 H.R. McMaster
Author, Military Advisor, and Professor
H.R. McMaster retired with thirty-four years of experience as an officer in the U.S. Army commanding troops in Afghanistan, Iraq, Kuwait, and during Desert Storm, followed by a position as National Security Advisor in the White House, and professorships at Stanford University and the Hoover Institution, H.R. McMaster brings us his well-qualified viewpoint of the geopolitical landscape and decades of first-hand knowledge of the global stage today.
He is author of the award-winning book Dereliction of Duty: Lyndon Johnson, Robert McNamara, the Joint Chiefs of Staff and the Lies that Led to Vietnam. His most recent book, Battlegrounds (2020), covers his time in the service and the White House, serving the Trump Administration as National Security Advisor. He has published scores of essays, articles, and book reviews on leadership, history, and the future of warfare in many publications including Foreign Affairs, The Wall Street Journal, and The New York Times.
His book analyzing the Munk Debates of May 9, 2019, China and the West, in which he participated with Michael Pillsbury, was published in December 2019. In the debates, he and Pillsbury were pitted against a team of two opponents: the President of the UN Security Council and the President of a Chinese think-tank. McMaster and Pillsbury defended the concept that China is a threat to the international order, one that must be overcome through economic, political, technological, and even military means.H.R. McMaster graduated from the U.S. Military Academy in 1984, served as an Army officer for 34 years, and retired as a lieutenant general in 2018. He remained on active duty while serving as the twenty-six assistant to the president for national security affairs. He taught history at West Point and holds a PhD in history from the University of North Carolina at Chapel Hill.
Buy General H.R. McMaster's books at Book Passage
---
Other 2021 Authors & Speakers