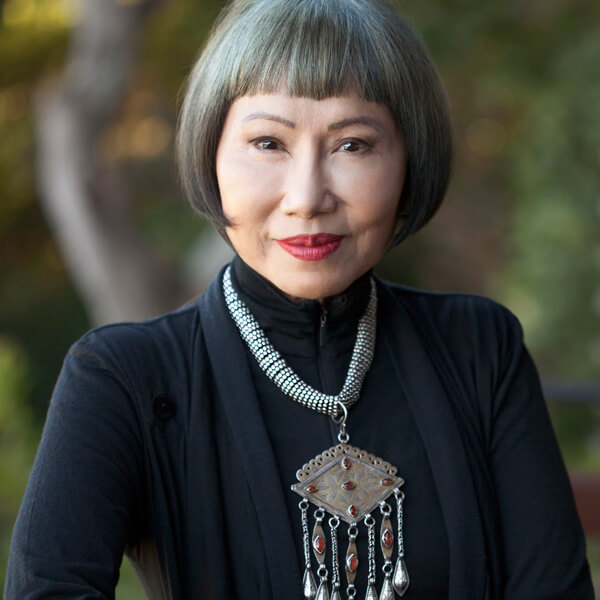 Amy Tan
Bestselling Author
Born in the U.S. to immigrant parents from China, Amy Tan rejected her mother's expectations that she become a doctor and concert pianist. She chose to write fiction instead. Her novels are The Joy Luck Club, The Kitchen God's Wife, The Hundred Secret Senses, The Bonesetter's Daughter, Saving Fish from Drowning, and The Valley of Amazement, all New York Times bestsellers. She is also the author of two children's books, The Moon Lady, and Sagwa, The Chinese Siamese Cat and numerous articles for magazines, including The New Yorker, Harper's Bazaar, and National Geographic, as well as a short story "Rules for Virgins" published in e-book format (Byliner Original).
Her work has been translated into 35 languages, from Spanish, French, and Finnish to Chinese, Arabic, and Hebrew. She has written a memoir, The Opposite of Fate, and a book about writing titled Where the Past Begins: A Writer's Memoir. Amy Tan is the subject of a documentary directed by James Redford titled Amy Tan: Unintended Memoir, which debuted at Sundance in January 2021. The documentary will air May 3, 2021 as part of PBS's American Masters.
Amy Tan served as Co-producer and Co-screenwriter with Ron Bass for the film adaptation of The Joy Luck Club for which they received WGA and BAFTA nominations. In 2020, the film was added to the National Film Registry, an archive of motion pictures chosen for their "cultural, historic or aesthetic" importance to the nation's understanding of cinema. She was the Creative Consultant for Sagwa, the Emmy-winning PBS television series for children, which has aired worldwide, including in the UK, Latin America, Hong Kong, China, Taiwan, and Singapore.
Buy Amy Tan's books at Book Passage
---
Other 2021 Authors & Speakers