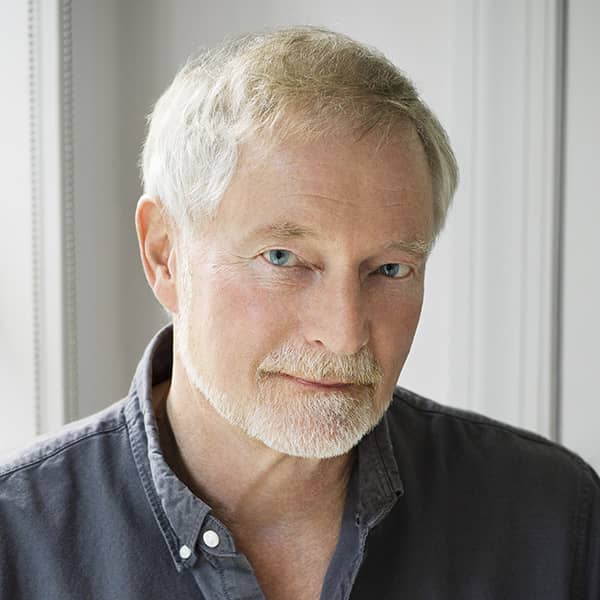 Erik Larson
Erik Larson is an American author and a master of narrative non-fiction. His vividly written bestselling books have won numerous awards and have been published worldwide.
Larson's most recent bestseller, The Splendid and the Vile: A Saga of Churchill, Family, and Defiance During the Blitz, is a biography of Winston Churchill's first year as prime minister. In this 2020 New York Times Notable Book, Larson delivers an intimate chronicle of Churchill and London during the Blitz, offering an inspiring portrait of courage and leadership in a time of unprecedented crisis while showing in cinematic detail how Churchill taught the British people "the art of being fearless." Drawing on diaries, original archival documents, and once-secret intelligence reports—some released only recently—Larson provides a new lens on London's darkest year through the day-to-day experience of Churchill and his family.
His previous book, Dead Wake: The Last Crossing of the Lusitania, about the 1915 sinking of the ocean liner Lusitania was #1 on the New York Times Bestseller list. In the Garden of Beasts is a gripping portrait of the American ambassador and his family in Berlin during the first years of Hitler's reign. The critically-acclaimed The Devil in the White City inter­twines the stories of the Chicago 1893 World's Fair and one of America's worst serial killers. It remained on the New York Times bestseller lists for a combined total of over six years, won an Edgar Award for nonfiction crime writing, and was nominated for the National Book Award. Isaac's Storm, about the devastating Galveston hurricane of 1900 and the birth of modern American meteorology, became an immediate New York Times bestseller and won the American Meteorology Society's prestigious Louis J. Battan Author's Award.
Larson began his writing career as a journalist working briefly at the Bucks County Courier Times before becoming a staff writer for The Wall Street Journal and later a contributing writer for TIME magazine.  He has written articles for The Atlantic, Harper's, The New Yorker, and other publications and has taught nonfiction writing at San Francisco State, the Johns Hopkins Writing Seminars, and the University of Oregon.
He graduated summa cum laude from the University of Pennsylvania, where he studied Russian history, language and culture. He also received a master's degree in journal­ism from Columbia University.
Buy Erik Larson's books at Book Passage
---
Other 2022 Authors & Speakers