Savoring the Splendors of Sonoma Valley By Don George

Savoring the Splendors of Sonoma Valley
By Don George
The Sonoma Valley Authors Festival is reason enough to come to this idyllic valley just an hour north of San Francisco. But if you're coming just for the festival, you should be aware that a spectacular spectrum of other riches awaits you here. Why not make a longer trip out of your visit? You'll be happy you did!
I know this from personal experience. Shortly after I moved to the San Francisco area in 1980, well-traveled friends told me that for my first foray outside the Bay Area, I should be sure to visit Sonoma Valley. It boasted all the treasures of its more famous neighbor, Napa Valley, these friends said, but with a more grounded, downhome atmosphere.
Following their advice, I made a weekend getaway to Sonoma a few months later. When I drove to the valley, I knew that Sonoma was a storied wine region, the second oldest in the United States, but I wasn't prepared for the bounty of other delights that I found: inspiring scenery, a sophisticated dining scene, exhilarating hiking and biking trails, and sublime arts and crafts. All the things that had fueled my wanderlust around the world were waiting for me right here in my own backyard.
On that first trip, I fell under Sonoma's spell, and I couldn't wait to get back for a longer stay. That spell has only gained in potency through four decades, and every year I make at least one extended pilgrimage to the valley.
My most recent pilgrimage was in March of 2021. Although pandemic regulations were still in place, the area was already starting to bloom, literally and figuratively.
Literally, the meadows were efflorescent with white- and pink-blossoming plum and cherry trees, and the winter-green hillsides and latticed vineyards were gloriously carpeted with golden mustard plants.
Figuratively, I saw enthusiastic customers in shops throughout the area, and around the iconic square in downtown Sonoma, diners were out in force, happily sipping and supping, chatting and laughing at sidewalk restaurants.
Sonoma's town square, the largest in California, is the perfect place to begin a visit to the valley. I love that this historic eight-acre central plaza is truly a geometric square and is so manifestly the town center: The Town Hall sits regally in the middle of the grand green space, surrounded by lush trees and gardens, paths for ambling, benches for sitting and talking or reading, and swings for swinging.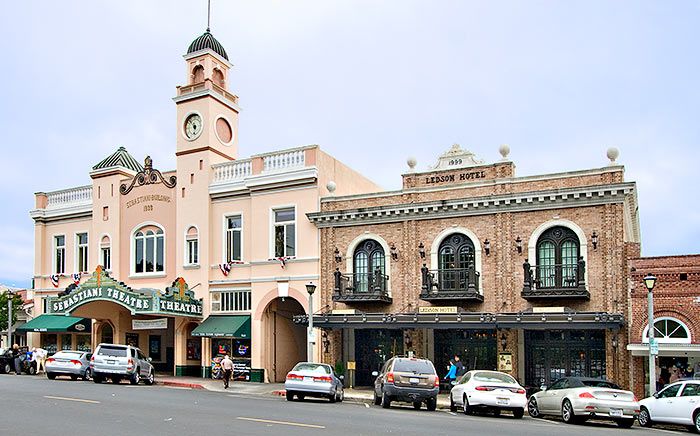 History infuses the air here. Human habitation stretches back some 12,000 years, when Pomo, Coast Miwok, Wappo, and other indigenous tribes originally settled in this region. The first non-indigenous inhabitants moved here in 1823, when a Spanish Franciscan priest nam ed Father José Altimira established the Mission San Francisco Solano de Sonoma, more commonly known as the Sonoma Mission. Located across the street from the town square, this marks the northern endpoint of the Camino Real, the trail that connected 21 Spanish missions, from San Diego to Sonoma. 
The Spaniards relinquished control of this area in 1821, when Mexico achieved independence from Spain. Fourteen years later, Lieutenant Mariano Guadalupe Vallejo, acting under orders from the Governor of Alta California, founded the Pueblo de Sonoma. It was Vallejo who laid out the central plaza and the street grid for the new town.  He also built the two-story, wide-balconied, adobeSonoma Barracks, where Mexican soldiers were housed, just across the street from the town square.
Sonoma's singular claim to historic fame comes from events that transpired on June 14, 1846. On that day, a group of American settlers, worried that they were going to be driven out of the area by the Mexican government, rode into town, rousted General Vallejo from sleep, took him prisoner, and declared a California Republic with Sonoma as its capital. They raised the beloved Bear Flag, featuring a grizzly bear and a star, over the plaza.
This California Republic lasted less than a month. On July 9, 1846, a U.S. Navy Lieutenant arrived with a contingent of soldiers and replaced the Bear Flag with the Stars and Stripes of the United States of America. California was formally transferred to the U.S. in 1848, and Sonoma was incorporated as a city in 1850—and theBear Flag became the official California state flag in 1911.
Today, history has been married with hospitality in Sonoma. Colorful and enticing shops line the plaza, spanning the spectrum from cozy cafes to high-end restaurants, with stores selling books, jewelry, leather goods, olive oil, ice cream, and much more. One place I always stop by is Lisa Kristine's gallery, which showcases the award-winning photographer's fine art and humanitarian works, which help support human rights efforts around the world. 
---
Sonoma Valley Wine
Wine is also a rich part of Sonoma Valley's history, and the area is considered the birthplace of California's premium wine industry. Vineyards were planted here as early as 1824 by the Sonoma Mission's Franciscan fathers, but the real beginning of Sonoma's distinctive wines can be traced to the figure of Count Agoston Haraszthy, an eccentric and ambitious Hungarian immigrant who moved to the region in the late 1850s.
Before leaving Hungary, Harasthy had already acquired a formidable knowledge of viticulture, and he recognized that Sonoma's terroir would be ideal for producing European-style wines. He started the area's oldest winery, Buena Vista, in 1857. Others quickly followed, and by 1876 the valley was producing more than 2.3 million gallons a year.
Buena Vista remains one of my favorite places in the entire valley. The sprawling complex includes a tasting room, museum, and press which visitors can tour. The elegant stone buildings evoke the atmosphere of old and the delicious wines reward repeated tastings.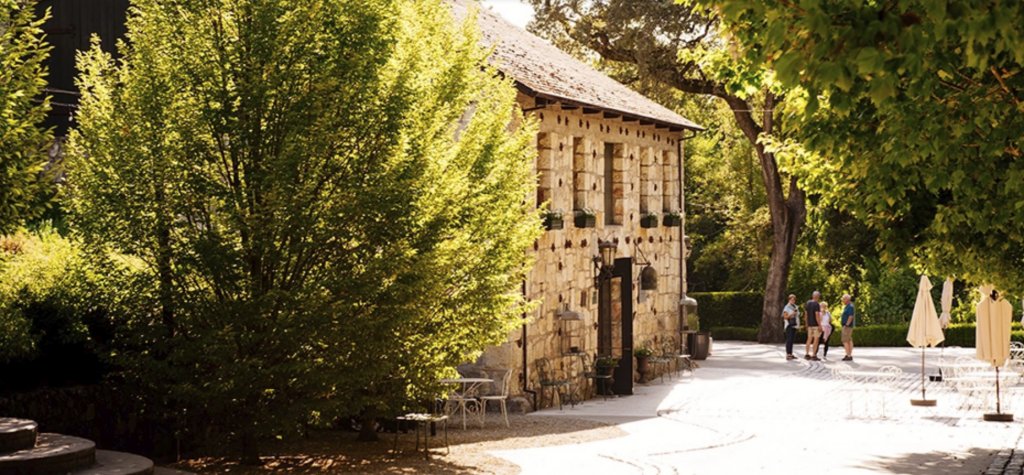 Throughout the valley, visitors can sample local varietals at more than 40 premium wineries and tasting rooms. Some of my other favorites include:
Gundlach Bundschu
Gun Bun, as it's popularly known, is California's oldest family-owned winery: Jacob Gundlach purchased 400 acres and began farming the land in 1858, and six generations later, the family is still doing so, now with a focus on producing small lots of ultra-premium wines. Shaded by silver-green olive trees and bordered by a picturesque pond, the setting is as opulent as the wines.
Scribe Winery
Perched on a verdant hill, this property has a welcoming, laid-back atmosphere. Visitors are greeted with a blanket and invited to spread out in the shade of a tree or at one of several picnic tables. Tastings are brought to your blanket, along with fruits and nuts grown right on the property.
Stone Edge Farm Estate Vineyards and Winery
This verdant property, distinguished by its magnificent expanse of oak, bay, madrone, and fir trees, offers ideal terroir for growing Bordeaux-style Cabernet Sauvignon grapes. Intimate tastings are offered at Stone Edge's Silver Cloud, a 160-acre mountain vineyard estate on the western slope of the Mayacamas range, which presents spectacular views of the Sonoma Valley and coastal mountains. To arrange a visit, email concierge@stoneedgefarm.com.
Chateau St. Jean
The elegant 1920s chateau here always makes me feel like I've been whisked away to France. Set among lush gardens and vineyards, with a backdrop of the majestic Sugarloaf Ridge, this is one of Sonoma's most soul-soaring settings.
Freeman Winery
This intimate winery and its 8-acre Gloria Estate Vineyard are dedicated to making Pinot Noir and Chardonnay wines that are as complex, eloquent, and age-worthy as those of Burgundy. Their setting, on a steep, redwood-covered hillside in the foggy Green Valley, is ideal for this purpose, and makes an enchanting venue for a private tour and wine tasting.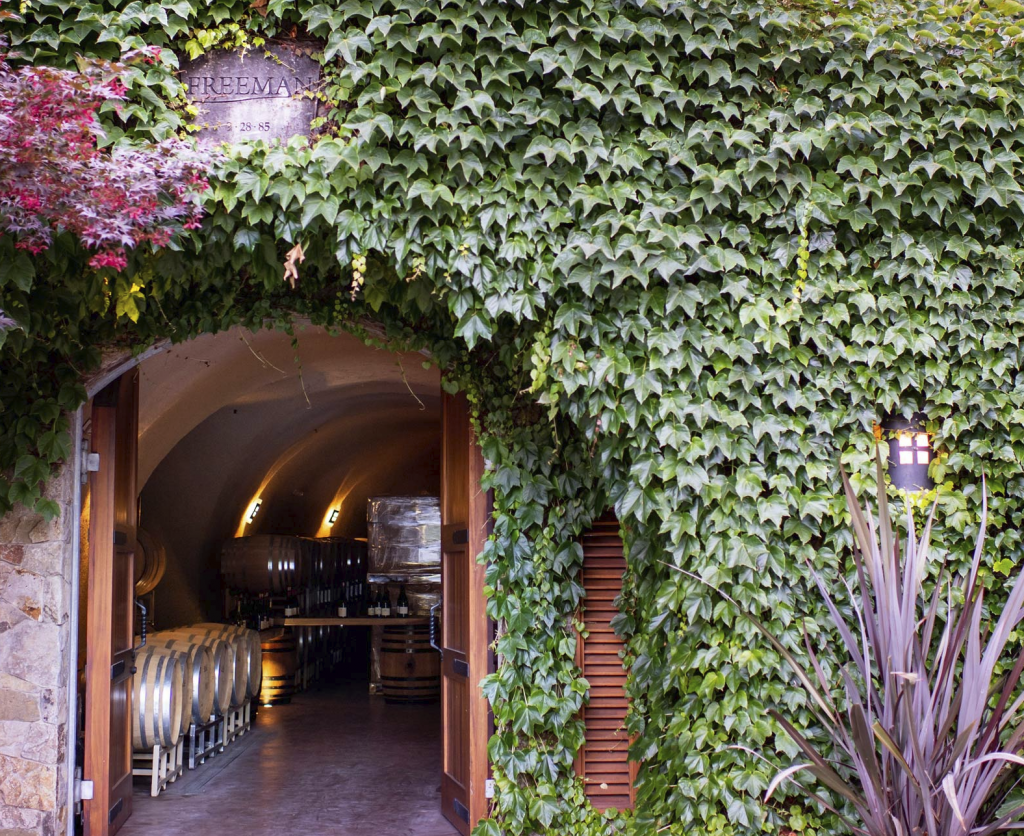 Jordan Winery
Set among rolling verdant hills, this estate includes 120 acres of Bordeaux grape varieties, sixteen acres of olive trees, and an acre of gardens with fruits, vegetables, herbs, and flowers. For a most indulgent treat, try the Paris on the Terrace offering, where visitors sample a sumptuous food and wine pairing at bistro-style tables under the estate's expansive oak trees. With French music playing softly and the chateau in the background, it is – how do you say? —merveilleux!
Cline Cellars
The gracious grounds at Cline Cellars, festooned with fragrant rose bushes and shaded with wonderful willow trees, always enchant me. But I come here especially for the California Missions Museum, a unique collection of replicas of each California Mission. These marvels, each one designed to scale by a team of German cabinetmakers under the direction of an Italian artist, were first displayed at the 1939 World's Fair on Treasure Island in San Francisco. The Cline family saved the models from being auctioned off individually and built this beautiful museum to showcase them.
The Dining Scene
World-class restaurants are also part of the allure of Sonoma, including a number of establishments that have been recognized by the prestigious Michelin awards.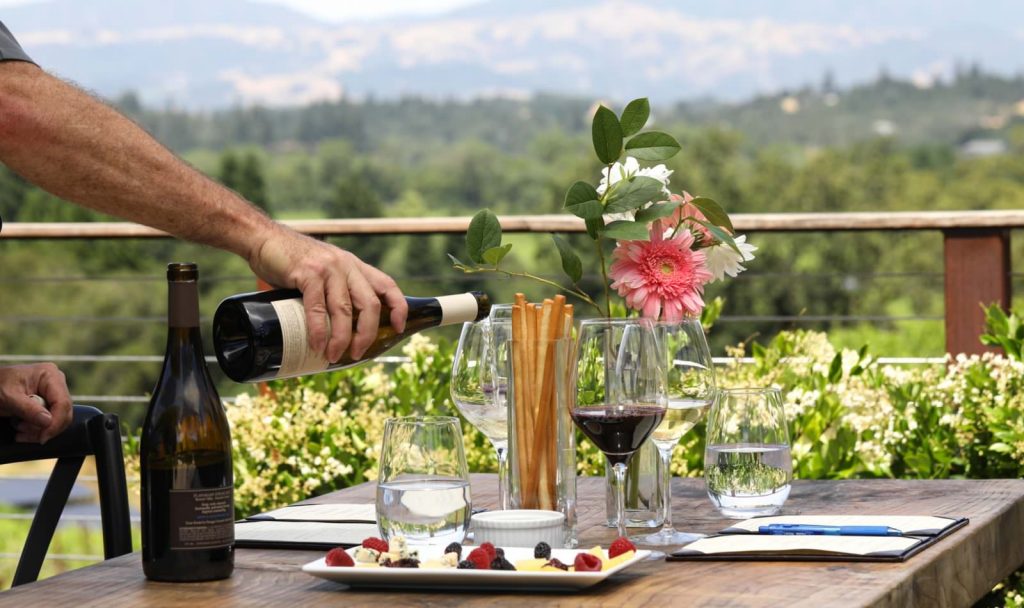 In 2020, the renowned Japanese-influenced SingleThread restaurant in Healdsburg was awarded three stars by Michelin for the second year in a row. Owners Kyle and Katina Connaughton serve an 11-course tasting menu that features hyper-seasonal fare – they have famously identified 72 "microseasons" – and is tailored to each diner's dietary preferences and restrictions. This is an unforgettable splurge – if you can get a reservation. 
Farmhouse Inn in Forestville was also awarded one star in the Michelin rankings. The menus here are also ever-changing, and feature the freshest ingredients straight from the owners' ranch; diners choose from a variety of menu items.
Nine other valley restaurants were also recognized by Michelin: Backyard in Forestville; Diavola Pizzeria + Salumeria in Geyserville; Glen Ellen Star in Glen Ellen; Bravas Bar de Tapas in Healdsburg; Chalkboard in Healdsburg; Risibisi in Petaluma; Stockhome in Petaluma; Ramen Gaijin in Sebastopol; and El Molino Central in Sonoma.  
In addition to these, some of my other favorite places include:
Sunflower Caffe
This bright café on Sonoma's plaza is the ideal spot for breakfast or brunch. The food is simple, local, and tasty.
Lou's Luncheonette
This beloved venerable eatery serves Southern comfort food Sonoma-style: fried chicken on the bone or in the biscuit. Yum.
Edge
Housed in an exquisitely renovated historic Victorian in downtown Sonoma, this intimate restaurant, affiliated with the aforementioned Stone Edge Farm Estate Vineyards and Winery, offers an epicurean immersion in the bounty of Sonoma Valley, with a prix-fixe menu that changes weekly.
Café La Haye
Casual sophistication defines the cuisine at this pleasingly spare, compact spot just off Sonoma's central plaza. When in doubt, order the risotto of the day and the butterscotch pudding. Deliciousness guaranteed.
Café La Haye
Casual sophistication defines the cuisine at this pleasingly spare, compact spot just off Sonoma's central plaza. When in doubt, order the risotto of the day and the butterscotch pudding. Deliciousness guaranteed.
The Girl & The Fig
Owner Sondra Bernstein describes this restaurant's seasonal Provençal-inspired cuisine as "country food with a French passion." I describe it as purely Provençal palate-plaisir.
---
Sonoma has an abundance of other treasures to savor: award-winning local products such as chocolates, cheese, honey, lavender, and olive oil; illuminating art museums and galleries; a lively performance scene; restorative spas and wellness retreats; and exhilarating biking and hiking trails.
One special place I very heartily encourage you to visit is the Jack London State Historic Park. This is where the famous author settled in 1905 and built his dream house, the Wolf House. Tragically, that structure burned down in 1913, shortly before it was due to be completed. In addition to the ruins of Wolf House, visitors can view the Winery Cottage, where London and Charmian, his wife, lived, and the House of Happy Walls, which Charmian built after the author's death in 1916. The park also includes extensive trails for hiking, biking, and horseback-riding, as well as open spaces for visitors to bird-watch, paint, picnic, take pictures, and simply revel in nature's splendor.
The excellent Sonoma County Visitors Bureau has detailed information on all of the county's attractions. Visit them online and in person to discover much, much more.
As my well-traveled friends told me four decades ago, Sonoma offers world-class riches without even a hint of self-consciousness or pretension. This is a place to relax and just enjoy life. That's why I make my annual pilgrimage here: I come for the wine and the food and the landscape, but also for the laidback atmosphere and the country hospitality and the pure pleasure of encountering people who love their home and take pride in sharing it with all.
I hope you enjoy the word-wonders of the Sonoma Valley Authors Festival – and I hope you stay for all the valley's worldly wonders as well!